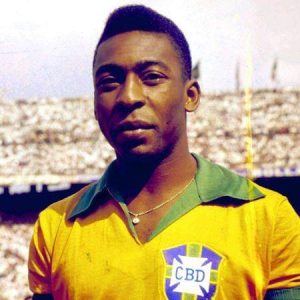 Pelé is one of the names which readily come to mind when football legends are mentioned. A Brazilian legend who ruled the green fields between 1956 and 1971, Pelé is known for his flair on the pitch, as well as the many gongs he picked up in his heyday. In retirement, Pelé continues to make news in football circles, with his humanitarian and statesman acts, as well as his comments on social media, that often stir up a pot of reactions.
Pelé was born in Minas Gerais, Brazil, and was named Edson Arantes do Nascimento. His name, like many other Brazilian names before and after, was dumped when he got into the game, and replaced with the more palatable 'Pelé.'
Early Playing Days
The young Pelé began playing recognisably at the age of 15. He started out at Santos, where he was quickly spotted by football scouts for his goalscoring exploits. Within a year of his Santos debut, Pelé was already playing for the national team and well on his way to stardom.
Star Years
Pelé spent 18 years at Santos, where he made a name for himself as a football icon. During his playing days, his style of play drew many fans and helped the team collect numerous accolades, key among them the Copa Libertadores.
It is also during this era that he became a permanent figure in the national team, where his 77 goals remain a record to date. In 1975, he moved to New York Cosmos, where he played for two years before retiring.
Retirement
In retirement, Pelé has served numerous roles in the game and collected several honours. He has been appointed a football ambassador by many brands. Among the many honours bestowed on the Brazilian include The Athlete of the Century by the International Olympic Committee, as well as World Player of The Century by FIFA, and the International Federation of Football History & Statistics.