There is certainly no doubt that Neymar is one of the most talented young players in the world today. Well, at 27, the Brazilian is not so young anymore, but he still has a chance to become the world's most magnificent player as CR7 and Messi exit the stage. But will the poster boy live up to the tag he has carried for so long?
Too Many Sideshows
While his gift has never been doubted, pundits have always questioned Neymar's career path and whether it will lead him to his peak. When he moved to Barcelona in 2013, many considered the then 21-year old to have made the right move by joining the best. However, talk of being under Lionel Messi's and Luis Suarez's shadow soon began coming up, and, however good Neymar got, he never appeared the best.
At the same time, off the pitch issues regarding his transfer began popping up and appeared to affect his performances. He had legal tussles and eventually moved to PSG in a world record transfer fee.
The move to PSG drew mixed reactions. Some viewed it as a backwards career step, arguing that the French league is not competitive enough to bring the best out of Neymar. However, others said that he would get a chance to shine. Well, the doubters appear to have got it right this time; Neymar seems idle in France.
National Underachievement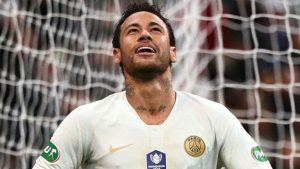 The Brazilian football fraternity considered Neymar their best player of the generation, but he has been unable to live up to this tag. A definitive injury in 2014 and lacklustre performances, laced with play-acting in 2018, have denied him the chance to shine in the last two world cups.
Real Madrid Link
The return of Zinedine Zidane to Real Madrid has seen Neymar linked with a move back to Spain. Many view this as Neymar's last chance to shine, but is he willing to join Barca's most significant rivals?