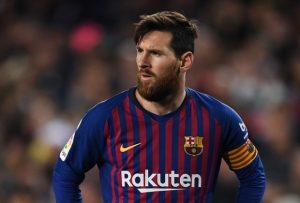 Lionel Messi is Maradona's, and millions of others, favourite footballer. And that does not need much justification. Just watching the diminutive playmaker in action for a few minutes will give any doubter some convincing as to why so many people take to the Argentina and Barcelona number 10.
Magical Story
Messi is simply a story of magic. From a kid having growth deficiency hormones in Argentina, to arguably the best player in the world, there's no denying he is one of the greatest players who ever lived. The little argument over whether he is the best player of this generation rises, due to the presence of Cristiano Ronaldo in this age.
Talking Feet
Messi appears uncomfortable whenever he is drawn to the best-in-the-world debate, always preferring to let his feet do the talking. And talking they have done; in many instances for Barcelona. With Messi's assistance, the Catalans have managed to win everything there is to win in world football.
From the Spanish top flight to domestic cups, European glory and the club world cup, Messi has delivered it all. All this he has done with style and flair which has left the entire football world wowed. Players who have come up against Messi always consider the experience a nightmare, but a bad dream they are so honoured to be part of.
The Elusive Glory
For all his talented exploits, Messi has repeatedly failed to achieve on one front. He has won everything for the club and for himself, but he is yet to reach glory with his native Argentina. He has continually fallen short in the World Cup and Copa America. The closest he achieved was a final appearance in the 2014 World Cup in Brazil, where his side lost 1-0 to Germany in extra time.
This glory-chasing has caused frustration, and Messi has considered retiring several times, but Argentinians love him too much to let him go. Is he really from this world?