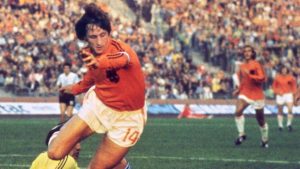 Johan Cruyff is a football legend of his own unique calibre. Most casual fans may not know much about him, or may not even have heard the mention of his name. Seasoned football heads, on the other hand, would pay to go on a Johan Cruyff pilgrimage if there ever was one.
Who was Cruyff?
There are numerous ways to introduce Cruyff. You could speak of him as a player or as a coach, given he was equally great in both phases of his career. You could talk about him as a Dutchman, or as a pillar of club football in Spain.
Cruyff was born in Amsterdam, the Netherlands in 1947. He lived a full football life and died in Barcelona, Spain, in 2016 at the age of 68. In between, he did all that could be done for football in many different capacities.
Football Career
Cruyff began his playing career in the Ajax youth side in 1957, where he developed until 1963, before breaking into the senior team at the age of 17. He went on to help Ajax to eight top-flight titles before moving to Barcelona. Here, he became a darling during his five-year stay. His playing journey then took a traveller mode, which saw him tour with several other teams, among them a return to Ajax and a Feyenoord swansong.
The stylish player was also a great icon for the Netherlands national team, which he captained to victory in the 1974 World Cup. He won the tournament's golden ball and displayed the 'Cruyff Turn,' a playing trick which remains fashionable to date.
Cruyff managed Ajax, Barcelona, the Netherlands national team and Catalonia in highly successful stints. He was known for introducing beautiful and entertaining playing philosophies, as well as great quotes about the game.
Cruyff died from cancer in 2016 and was profoundly mourned by the football world. The Ajax home ground was renamed in his honour.