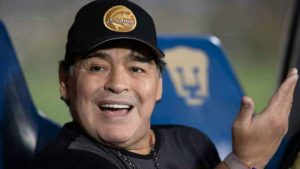 Mention Diego Armando Maradona anywhere in the world, and you are sure to have heads turning. And not just the heads of football fanatics; even anyone who has had the least contact with football still has an idea of who Maradona is.
Legend of Drama
Throughout his career, Maradona's life was never free from drama. Whether he was on the football pitch or off it, there was always some Maradona activity which was going to cause headlines. His most notable on-pitch antic was the 1986 World Cup 'hand of God,' a controversial goal that bundled England out of the tournament.
His talent was never in doubt, though. In that same tournament, Maradona scored a brilliant solo goal after a close to 60-yards dribble. That goal cemented his place among football legends and earned him an idol status among Argentinians. He was the captain of the Argentina team which won that tournament and received the player of the tournament golden ball award.
Club Career
Maradona was always on the go as a football player, making a mark wherever he went. In a career spanning 21 years from 1976 to 1997, he played for seven clubs, including Boca Juniors, Barcelona, and Napoli. He played a total of 491 matches and scored a total of 259 goals.
Management
His retirement years have primarily been close to football, and he has managed eight teams and counting. He has had controversial stints at the helm of the national team. As at April 2019, his Dorados team had gone 23 matches unbeaten and was poised for a run-off spot.
Personal Life
Maradona has as been comical off the pitch, as he has been on it. There have been several articles in the news regarding his marriage, drugs problem, comparisons with Pele, his affection for Lionel Messi and his views about Argentine football, which are never far below the surface.